Exhibitions
Sisters, Sirens and Saints: Imagining the Women of Beatrice Offor 
Special Exhibition of Portraits by Beatrice Offor (1864-1920) 
Until October 2023 
Image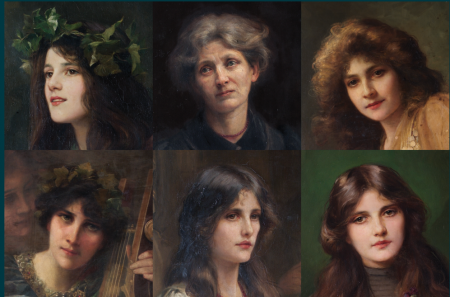 Celebrating the artist Beatrice Offor (1864-1920) who lived in Tottenham, this exhibition explores her beautiful portraits and the imaginings and portrayals of the women she painted. 
Bringing together her artworks from the collections at Bruce Castle Museum alongside recently discovered paintings, this exhibition draws on new research, the influences in her life and the recent invigorated interest in her art. 
Beatrice Offor was amongst the first women students who trained at The Slade, going on to become one of the few commercially successful Edwardian female artists. An unusually forward-thinking artist for her time. 
Location: Compton Gallery 
---
Inspired by...George Shadbolt
Victorian Photographer, Writer & Innovator
7 June 2023 - 1 October 2023
Image
Pioneering photographer George Shadbolt (1819 – 1901) took some of the earliest photographs of London during the 1850s-60s. Bruce Castle has an exquisite archive of these early prints showing the quiet rural landscapes of Highgate, Hornsey and Tottenham.
Our collection represents one of the most significant assemblages of his work in this country. His work can also be seen at the Museum of London, The British Library, The Getty and Metropolitan Museum of Art in the US.
Location: Coleraine Gallery